This method is designated by the term "cava" in Spain and by "Metodo classico" in Italy…
Phase 1 : Making the base wine
Whole clusters of healthy grapes are pressed. The press fractions are separated as a function of quality. Harvesting, grape transport and the press method used are all important. Presses are meticulously cared for and regulated by law.


Phase 2 : Transforming the still base wine into a sparkling wine.
This transformation occurs in the bottle.



During bottling (commonly known as tirage), the following are added to the base wine:
- Sugar
- Yeast
- Riddling agents.
This bottle fermentation is known as the "prise de mousse" and it leads to the following:
- Disappearance of the sugar
- Formation of alcohol (1.3% vol.)
- Production of carbon dioxide gas
- Formation of a deposit.


Bottle ageing (minimum 15 months)


Clarification in the bottle = riddling = turning the bottles to collect the deposit in the bottle neck.


Final phases :
- Disgorging = removing the deposit from the bottle
- Dosage = adding the expedition liqueur
- Corking = inserting the cork stopper
- Wiring = placing a wire cap over the cork
- Foiling, labelling.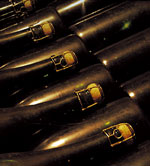 ©Photo Alain Cornu
Collection CIVC.