Effervescents du Monde® 2023
The 21th annual qualitative competition for the Best Sparkling Wines in the World held on November 28 to December 1, 2023 at Château des Ravatys at Saint Lager in the Burgundy wine region of France.
Effervescents du Monde® 2023 Results
The results of the 21th annual International competition for the Best Sparkling Wines in the World are available:

Medal Distribution:

Gold Medals: 80
Silver Medals: 76


This event is unique in terms of its scope, its method and therefore its ambition:
International in scope:
More than 20 countries.
More than 500 wine samples.
More than 80 international expert judges, including 50% from outside France.
A strict method:
Compliance with international wine competition rules.
Guaranteed implementation of scoring criteria for international competitions.
Rigorous selection of the panel of expert judges.
Training in tasting methodology at the Institut Paul Bocuse, with individual assessment of each taster.
Faultless, quality-driven organisation: limitation of the number of wines per jury and ideal tasting conditions (sensory isolation, proper tasting rhythm, etc.)
Secure computer processing of results by the Services Actions Qualité company.
Ambition:
To award reliable and thus representative medals each year, reflecting the founding motto of Effervescents du Monde®: diversity, quality and high standards.
Towards Optimal Tasting of Sparkling Wines and Ideal Expression of Foam and Effervescence


Effervescence

As an introduction to the approach used for the qualitative confrontation of the world's best sparkling wines, we have accepted the definition of "effervescent wines" found in the 1988 edition of the Dictionnaire du Vin (in French):

An effervescent wine is one that releases carbon dioxide bubbles at its surface.

Organisation

Effervescents du Monde® is an organisation of the Forum Oenologie Association.

Forum Oenologie Also Organizes:
The international qualitative competition
Chardonnay du Monde


The international qualitative competition
Muscats du Monde


The international qualitative competition
Syrah du Monde


The international qualitative competition
Alliances du Monde


The international Wine and Vine films Festival
OENOVIDEO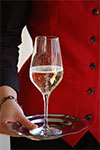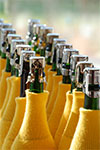 Effervescents du Monde®
1229 Chemin du Roy de Croix
Maison des Vignerons du Château de Chaintré
71570 CHAINTRÉ - FRANCE
From France:
Tel: 03.85.37.43.21
Fax: 03.85.37.19.83
From abord:
Tel: 333.85.37.43.21
Fax: 333.85.37.19.83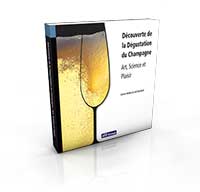 Découverte de la Dégustation du Champagne
Art, Science et Plaisir
De Carine Herbin et Joël Rochard
An excellent initiative has recently come to our attention thanks to its serious approach and its originality. We commend the publication in French of the first book devoted solely to the tasting of Champagne and other sparkling wines: "La dégustation du champagne: art, science et plaisir" (Champagne Tasting: Art, Science and Pleasure) by two enologists, C. Herbin and J. Rochard.
This richly illustrated book, which contains exercise sheets, diagrams and examples, will enable both wine lovers and professionals to:
Better understand the specificities of Champagne: its complexity, the mystery of its bubbles and its heady aromas.
Initiate themselves in Champagne tasting: attentive analysis of the different sensorial stimulations, the ceremonial aspects of Champagne service, how to express the pleasure of tasting Champagne as well as numerous practical exercises.
Expand their vocabulary: more than 900 specialized terms in French and English.